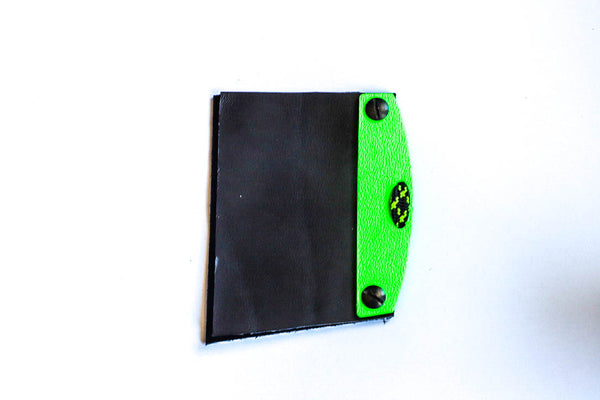 Minimus Kydex 3 under Tab - Flo Green
A scaled down version of the Ultralight without the foam on the back of the plate.  Utilizes the same face as the ultralight so replacing the face is easy!  
The tab plate is manufactured out of, the extremely durable, Kydex material. This material is mainly used for gun holsters and knife sheaths. An absolutely light and rugged material to be utilized for a shooting tab. 

Easily Replace the face by removing two small screws
Easy to make your own replacement faces 
Your choice of Veg tan, cordovan, or kangaroo for the face 
Cordovan: The gold standard for tabs. Great Durability, quick break in, good feel of the string.
Kangaroo: Quickly becoming a popular leather for tabs. Very light, very durable, very good feel on the string. Calf hair shooters will enjoy this leather! 
Veg Tan: Very robust and affordable leather. Longer break in time than cordovan or kangaroo but feels very nice when broken in. 
Sizing Directions:
Simply measure the width of your index, middle, and ring finger together as if you were hooking the string. This correlates to the LENGTH of the tab plate. The tab face (leather) was designed to be trimmed to the perfect fit which is why the tab PLATE and not the face determines tab sizing. 
XXL: 3"
XL:    2 & 13/16"
LRG:   2 & 5/8"
MED:   2 & 7/16" 
SM:   2 & 1/4"
XSM: 2 & 1/16